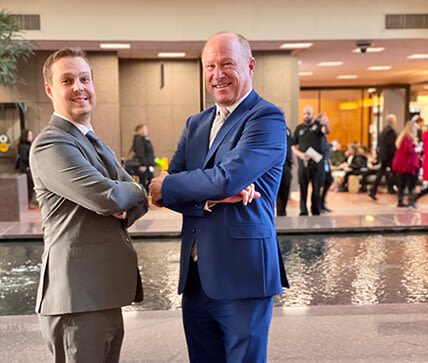 Small Firm, Great Philosophy
One of the best things about choosing a small firm for legal representation is knowing exactly who you're working with. Whenever you contact us, you'll find a welcoming staff of legal professionals. When it comes to handling your case itself, you can expect to work directly with an experienced attorney.
To us, you are never just a client, and we never use a one-size-fits-all approach. Instead, we tailor our practice to meet the specific needs of each client who walks through our doors. In addition, we realize that accidents can occur outside the normal operating hours of most law firms.
As a result, we provide flexible service to our clients and are available via cell phone at any time. And, to make things easier on you, our attorneys are ready and willing to make hospital and home visits to injured parties.
If you or a loved one has been hurt and you're not sure where to start, we encourage you to give us a call. In addition to offering free consultations, we take great pride in our ability to provide clients with personalized legal aid. And, if Spanish is your preferred language, just let us know. Our founding attorney, Jim, is a fluent speaker.
We Do What's Best for Clients
More often than not, it's in our clients' best interest to settle their case before it makes it to the litigation process. However, that doesn't mean that we won't consider every possibility before deciding how to proceed.
For instance, if an insurance company is refusing to offer our client a fair deal, we won't sit idly by and allow the client to settle for less than their situation requires. They may need help covering current and future medical bills, lost wages, therapy costs, time off work, and more. Insurance companies don't want to cover all of these needs, but their sole purpose is to do just that. And our job is to make sure they're held accountable when they don't.
Why We Always Push for More
IT GIVES OUR CLIENTS
A VOICE
When an insurance company offers a low payout, we push for a fair one. This gives our client a chance to say, "This isn't okay, and we're calling you on it."
IT PREVENTS REPEAT OCCURRENCES
By challenging the insurance company, we are in turn deterring them from using the same low-balling practices the next time they face our firm in a dispute.
IT'S THE RIGHT THING
TO DO
Perhaps the most important reason we fight like we do is because it shows our clients that we're looking out for them, even when it feels like no one else is.
Our Rule of Exceptions
We are proud to be a small law firm because we enjoy getting to know our clients and giving each of their cases the personalized attention it deserves. By taking this approach, we build real relationships with our clients — to the point that many of them feel comfortable asking us for help with non-personal injury concerns.
For instance, we once had a client who, after their injury case was resolved, asked us to make sure their payout went toward a downpayment on their house. Another client returned to our office years after we had represented them because they realized they needed to draft a will and set up the appropriate powers of attorney. In each of this instances, we did not hesitate to help. As a small, client-focused firm, we don't operate using cookie-cutter solutions. Rather, we build customized strategies for our clients and make exceptions whenever it will benefit them.
Your Personal Injury Law Firm in Minnesota
The people we've helped in Minneapolis and throughout Minnesota have come to know us as being knowledgeable and easy to work with. We like to think of their positive feedback as evidence that we approach law the right way — with a focus on our their needs. To decide whether we're the right legal team for you, we invite you to call or come by our office. Whether your case is worth $1,000 or $53 million, we will treat you with respect and understanding.