Bike Accident Attorney in Minneapolis, Minnesota
Riding bicycles is a popular pastime among Minneapolis residents, but unfortunately, every year, more bicycle accidents seem to occur. Despite the number of crosswalks, bike paths, and newly drafted bicycle laws that have been created to help keep bicyclists safe, there is still a higher risk of being injured riding a bike than driving a vehicle. Even though bicyclists have the same rights as motorists when it comes to the use of roads and pathways, many drivers neglect to treat bicyclists with the same consideration. At Heuer Fischer, P.A., we have the expertise and experience needed to effectively represent Minneapolis bicyclists. If you were injured in a bicycle accident, call our office today to schedule a free consultation and speak with our team of skilled attorneys.
SCHEDULE A FREE CONSULTATION
JIM HEUER, JR.
ATTORNEY AT LAW
It is my passion to make a difference in the lives of my clients, and for more than 40 years, I have had the privilege of working within the community of Minneapolis, Minnesota. During law school, I worked as an insurance adjuster, but I quickly realized that instead of denying people the money they need, I wanted to help them fight for compensation that can help ease the burden of expensive medical bills. It was then that I made the decision to provide the highest quality legal guidance to individuals who have been injured.
As a skilled personal injury attorney, I understand that sometimes my clients may need an aggressive litigator, while others may need a compassionate legal advocate. My clients are not just another case number to me, I treat all of my clients with the respect and compassion that they deserve because I understand how difficult their circumstances are — and I want to do all that I can to help them move forward.
JONATHAN FISCHER
ATTORNEY AT LAW
As a young child, I too was injured in an accident — and sadly it was my mother that suffered the most. After seeing how my mother's injuries would affect her for the rest of her life, I decided to become an attorney so that I could help others who were going through similar experiences. That is why today, I work with such conviction because I have seen the physical, emotional, psychological, and financial cost of significant personal injuries. I am 100% behind my clients because I know that every case that I receive represents someone who is suffering and needs my help.
Regardless of the circumstances, I'm determined to help my clients get the compensation they deserve. With expert investigation and case law knowledge, I work hard to ensure all of my clients have the best chance of achieving a successful outcome. Additionally, I handle my clients' legal matters from start to finish because I believe that they deserve personalized attention at every turn.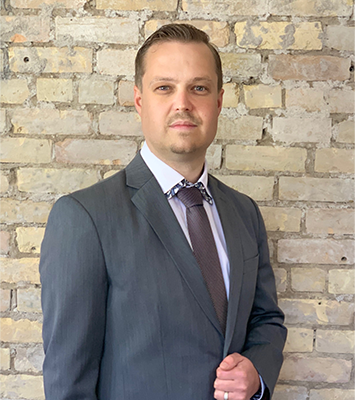 Injured in A Bicycle Accident?
Work with a Firm that Gets Results
Bike riding is one of the greatest ways to travel and explore. Not only is it environmentally friendly, but it also serves as an excellent way to stay in shape. Unfortunately, too often cars, trucks, and other motor vehicles do not like to share the road with cyclists, which can lead to dangerous accidents that cause serious injuries. At Heuer Fischer, P.A., we handle personal injury cases every day and have made it our mission to help our clients seek the necessary compensation that they deserve for their pain and suffering. If you or a loved one have been injured in a bicycle accident, find out how we can help today by calling our office to schedule a free consultation.
Do's and Don'ts After a Bike Accident
Do: Seek Immediate
Medical Attention

Go to the hospital. Even minor injuries need to be looked at by a medical professional. Photos should be taken of the injury and records of any medical treatment or complications should be gathered in the days following the incident.
Don't: Negotiate with
Insurance Companies

Do not negotiate directly with the other party's insurance company. The driver's insurance company may attempt to contact you to settle before you have all the information ready to support your claim.
Do: Speak with An Attorney

An attorney can negotiate with insurance companies on your behalf and ensure your rights are protected. At Heuer Fischer, P.A., we want to help you receive the compensation you need and take care of any legal complexities that may cause you stress.
Work With a Trusted Advocate Today
Minneapolis Bicycle Accident FAQ
What Are the Statistics of Bicycle Accidents?
Unfortunately, bicycle accidents occur more in urban areas. The Minnesota department of safety estimates that 10% of all traffic fatalities involved a bicyclist. Also, the number of bicycle accidents has risen recently; with cyclist injuries increasing by as much as 16% since 2008.
What Factors that Lead to Bicycle Accidents?
A majority of bicycle accidents occur when either drivers are distracted or do not see a bicycle in their path. Accidents can also occur when a driver is making simple maneuvers, such as changing lanes, left-hand turns, and passing without enough distance.
How Can I Prevent
Bicycle Accidents?
There are always a few tips you can follow to stay safe. Injuries are less fatal in cases where a helmet is worn. Additionally, bicycle accidents occur more in urban areas and streets with higher speed limits — so it's best to avoid these areas when you can.
You Are Not Just Another Case Number to Us
We understand how dangerous bicycle accidents can be. That's why it is our mission to provide you with compassionate legal guidance and support every step of the way. At Heuer Fischer, P.A., we are committed to our clients and want to help them work toward a solution that meets their exact needs. Every client that walks through our doors receives personalized legal service because we believe that providing that level of care is the only way to get results. If you or someone you know has been injured in a bicycle accident, call or reach out to our office today to schedule a free consultation.